Miles Morales has been taking the world by storm as Marvel's edgy newer hero, who only first made his debut in the comic line Ultimate Fallout in 2011. He follows in Peter Parker's footsteps as a new, teenage Spiderman after gaining similar abilities, but seems to have far more to offer in terms of sheer power. Marvel's Spiderman Miles Morales allows us to walk in the footsteps of this green hero in an all-new action-adventure game developed by Insomniac Games and published by Sony Interactive. This story directly follows the events of Marvel's Spiderman, the previous entry of the series. I loved everything this game had to offer despite it being a shorter tale than the first entry. This game is playable on PlayStation 4, and the 5 for only $49.99, making it way cheaper than most new games that are usually set at $69.99. I will warn new players, though in the game there is a recap of previous events I very much recommend playing the first game. Not only was the first Spiderman a fantastic game, but the story is crucial seeing as there will be more to follow.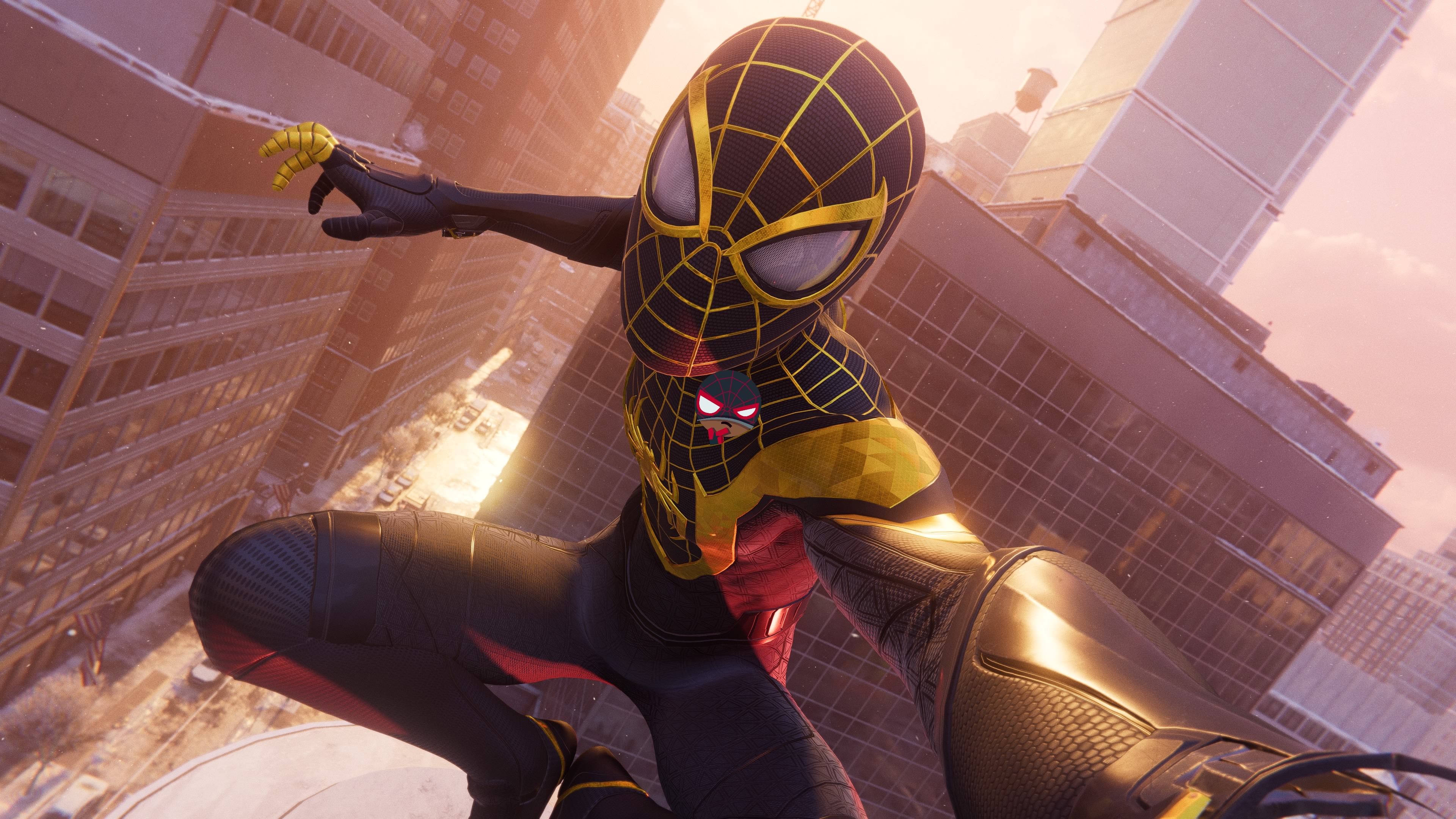 The story follows Miles in New York after his father's passing in the previous events that took place in Marvel's Spiderman. Miles and his mother Rio had just moved to Harlem, where she is running for City Council to fight for her home against a new energy company Roxxan. Peter goes on vacation, allowing Miles to fly solo in New York to find his footing, deeming him ready to fight for his city. Miles soon uncovers a war between this secretly corrupt energy company and the Underground; a terrorist group that is following the Tinkerer in trying to take them out. Compared to the previous game, I found Miles to be a bit more relatable than Peter. Miles shows the struggle of being a child hero and his feelings on trying to fill the shoes of Peter. Throughout the story, he unlocks unknown abilities that he learns to master over time, while also finding himself behind the mask and in real life. Between the mistakes he makes along the way and trying to overcome his self-doubt, the game does well in making Miles feel more human in this game, as well as creating a connection between the player and character. While the previous Spiderman did well to help the players play as Peter Parker, he felt more of a self-sacrificing hero that knew what to do. Miles, on the other hand, went through major character growth from starting as a timid teenager unsure of whether or not he is ready to take on the mask and changing into a full-fledged Spiderman. Insomniac designed this game so well in terms of overall character growth and story progression to the point where I even teared up at the ending of the game in both play-throughs.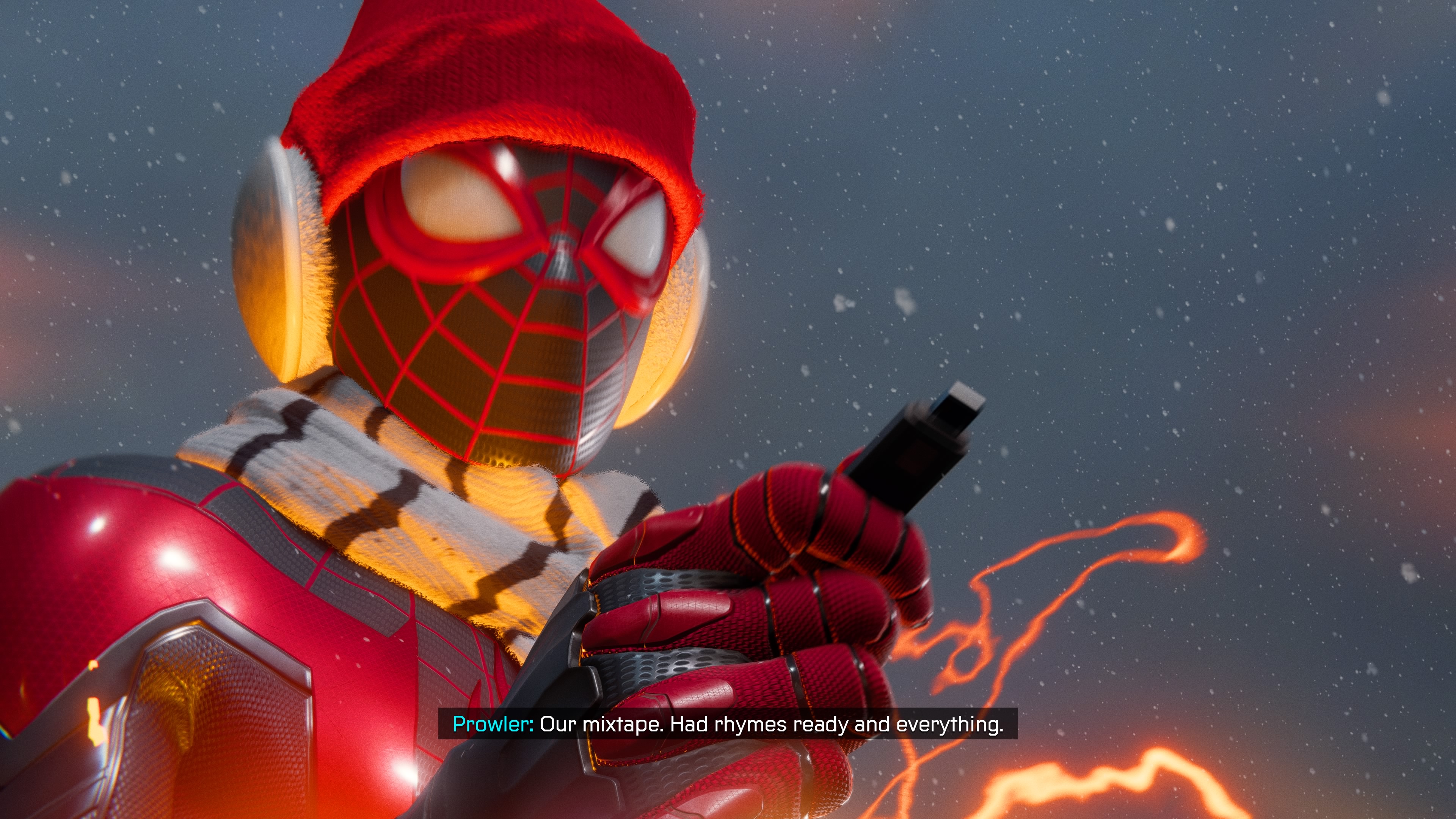 Marvels' Spiderman Miles Morales was a plain right personable game that was jam-packed with emotions. Every character made a massive impact on the game in their unique way. I could not get enough of how well designed the side characters and villains were in this game. Ganke was such a fantastic supporting character to Miles and helped bring a more realistic and modern feel to the game. Designing the Friendly Neighborhood app, helping Miles find himself as his person, and assisting on missions by remoting into his suit felt insanely cool and showed how reliable he was as a friend and partner. One could even say his best friend was the Sam to his Frodo. I also absolutely loved that this game brought the Prowler, a.k.a. Uncle Aaron in and designed him as not only a supporting character that contributes to Mile's growth as a family but also as a man that struggles between right and wrong. Even Rio fought so hard for her family and city against Roxxan and stood to show Miles that their family never backs down no matter how hard the fight is. Miles, like Peter, built such a good support system without even realizing it. Even the citizens of New York in the game felt more realistic compared to before as far as side quests go. Each character in the side quests felt more natural and had a lot more personality such as Teo and Hailey. Most of the characters you help out start off suspicious of the new Spiderman in town and over time warm up to him and deem him their district's Spiderman.
Though the story of this game was short, it was incredible and filled with fantastic side content. I do wish there was a bit more as far as side quests go, but there were good options outside of the new game plus for playability. All missions that were side quests and main quests can be replayed. In addition, you could trigger crimes over and over again to get activity tokens for unlocking abilities and suits. As far as resources go, there were significantly fewer options compared to the first game, for you only needed activity tokens and research parts to get gadgets, mods, and suits as well as the required level. This made the game far less tedious, but also I felt because of this I would have liked to see more to do. This game did do a good job of keeping you busy for the most part, since with each story progression you essentially got new collectibles or fetch quests unlocked as well as side missions. The side content provided also god a good story with each of them, such as finishing Mile's father and uncle's soundtrack, the end game scavenger hunts his father left for him, and even his time capsules he made with Phin. While the content might be lacking in quantity, the game has made up tenfold in quality.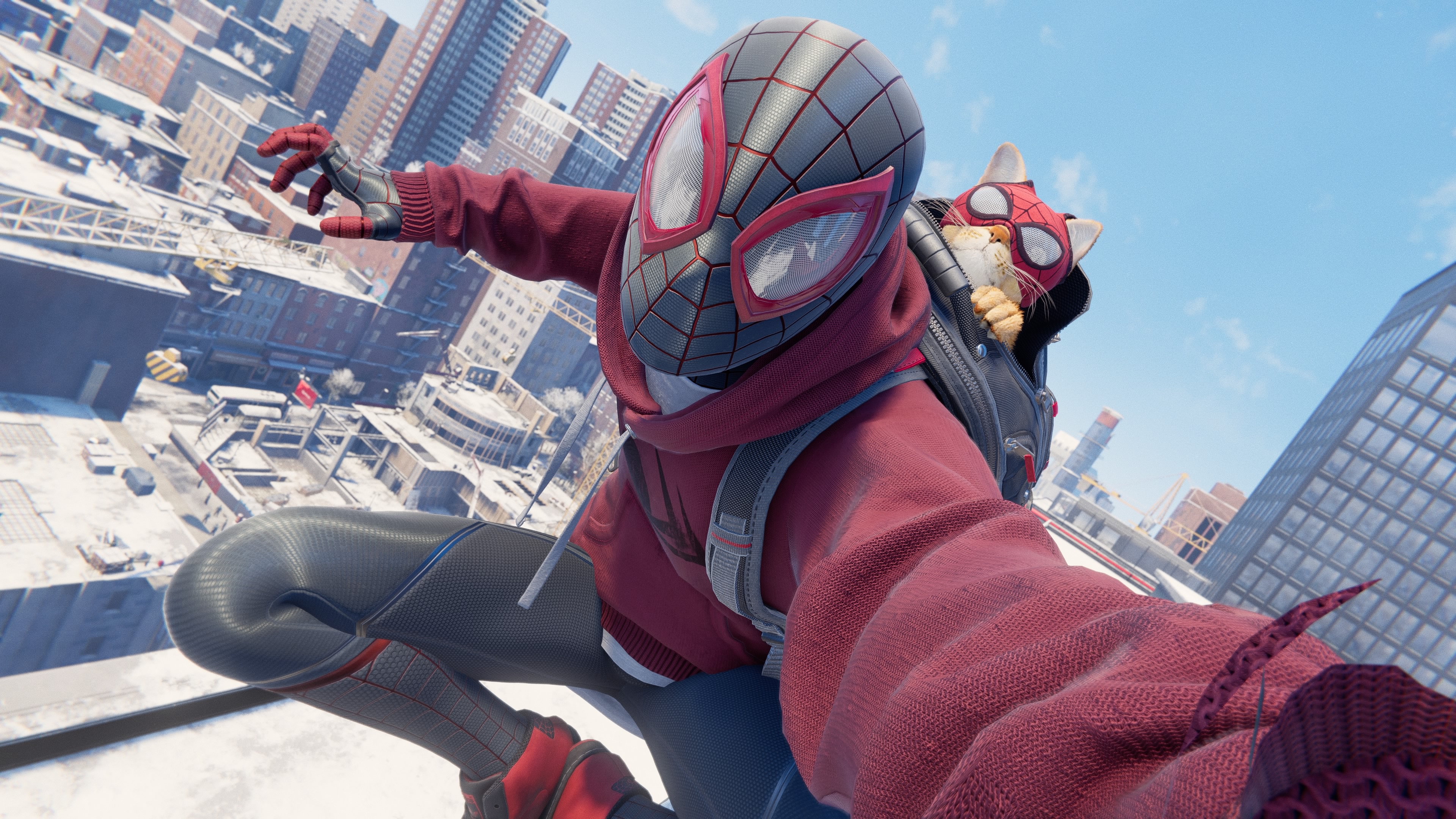 What I do feel like the game lacked in a bit more was gameplay. While I love the replayability of it, I felt like the new game plus option should have offered more in terms of content. Aside from some new game plus suits and abilities, there was no real reason to add it. You can change the difficulty for NG plus, and there are no new quests for it whatsoever. I felt because of this, new game plus was just a filler to feel like there was more to game content-wise, but there was not. The only real reason outside of suits and abilities for NG plus is for trophy hunters. In addition, the combat was satisfying but also left you feeling a bit too powerful regardless of difficulty because of the bioelectricity abilities, invisibility, and gadgets. Finishers only required combos rather than taking away from your venom attack build-up bars. While you consumed a bar to heal from your bioelectricity bar, it racks up so fast and using them often leaves you in less need to heal. You can combo off of them so easily causing insane damage to enemies. Even on Spectacular while they might not die as fast it still takes a big chunk off of heavy hitters. Gadgets also replenish fast and rack up damage with gravity well, the holo-drones, and remote mines.
While you have fewer options compared to the first game, they do way more damage. I found myself using all of the gadgets, but you could also pick off enemies super easily with gravity well and venom blast. My only other complaint as far as the combat goes is how exploitable camouflage is. Enemies do not counter this until late game, but through the majority of the game you could go in wreak havoc or stealth kill and no matter how you get caught you can go invisible again leaving enemies confused dropping their guard fast. I tore through each base so fast because of this ability alone. I'm not saying the game should be hard, but more so there should be a better balance for each difficulty. Harder modes are for players that want a challenge or players that don't want to steamroll through the game, but there were no considerably noticeable gaps with each jump. That being said the combat did at least feel satisfyingly cool.
All in all, I loved this game, though some areas are lacking it set a new bar for the series as far as story and quality go. I loved the amount of detail that went into creating the environment and story. I also can not wait to see what happens in the next entry per the end scenes we got in the credits. Miles is an amazingly human character and an incredible Spiderman. This game also played incredibly smooth on the PS5 at 60 frames per second. The Marvel's Spiderman series offers some of the best superhero games out there, and I expect great things from Insomniac.
DVS Score: 8/10
Veteran gamer, tech nerd, comic addict, anime lover, and just your average introverted weeb.